Senshi Knife Set ($1,375)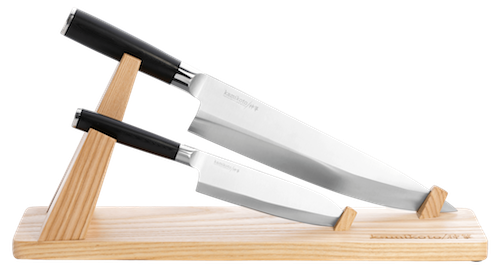 The Senshi Dual Knife Set consists of a 10-inch Chef knife and a 5.5-inch utility knife – with a handmade blade that will stand the test of time. The Senshi Dual Knife Set features high-quality steel from Honshu, Japan – a steel with high corrosion resistance and durability. Each blade completes a rigorous quality assurance process, and is tested and retested to ensure it meets the distinction and caliber of Kamikoto.
The Senshi Dual Knife Set features a unique wooden display stand. A balance of aesthetic beauty and simplicity in function. Each knife is precision-balanced and weighted, offering excellent use with longlasting performance. You can tell the quality of Kamikoto by the feel it gives you: substantial, yet light; slender, sharp, and fluid — carefully balanced for a lifetime of use.
1000/3000 Toishi Whetstone ($210)
A sharp knife makes kitchen preparation a task to look forward to. Our Toishi Sharpening Whetstone is designed to keep high-quality knives sharp and ready to cut. The Toishi Sharpening Whetstone sits on a beautiful wooden bamboo stand and features two sides – one with a coarse grit to grind away any roughness, and the other with a fine grit that sharpens and polishes the edge. The finer the grit, the finer the edge on your knife. The sturdy wooden stand holds the whetstone safely in place so you can concentrate on gaining the sharpest edge possible.
A good whetstone and a little practice are all you need to keep your knives in perfect condition. The key is to maintain the right angle and keep it consistent as you sharpen. The Toishi Sharpening Whetstone comes with a set of detailed instructions on its use for the best possible results.